TV Services


ANI provides news and features to all major broadcasters in the world.
Text News


The ANI text capsule gives top news with features health and entertainment content.
TV Programmes


ANI provides compelling multilingual programmes aimed at international viewers interested in South Asia.
Facilities


ANI offers round the clock facilities for both foreign and domestic channels desirous of packaging and uplinking their reports from India
TV PROGRAMMES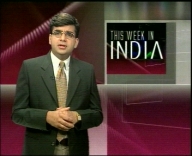 MY INDIA
My India - Weekly half hour programme in English on features from India, covering communal harmony and unity in diversity of the country. It also has a segment on Indian culture, a section on new film and audio releases and a section on travel. It includes a weekly report on the latest trends and news making events from the world of Indian business.

NEWS WEEK SOUTH ASIA
Weekly half -hour programme in English that provides a view of the week's developments in South Asia. It provides extensive coverage of South Asia, and its USP is its in-depth analysis of events from the hotspots of South Asia.

SOUTH ASIA NEWSLINE
15 minute anchored news bulletin in English - available 5 days via satellite in UK and US. The bulletin deals with news making events in the South Asian region.

THIS WEEK IN INDIA
This Week in India is a weekly human-interest oriented feature magazine. It has reports on new fashion trends, changes in Indian society, and the evolution of family relationships in a country, which is rapidly going through economic reforms. It also highlights food trends, interviews with film stars and the latest news from Bollywood.

DATELINE PUNJAB
This half-hour weekly show covers events in the northern Indian state of Punjab, presenting the week's top news from the state along with human interest features.

BOX OFFICE
A weekly countdown of the top five-Bollywood films.

DUS KA DUS
A countdown of the top ten-Bollywood film songs of the week.

DELHI DIARY
A weekly magazine show on Delhi, including landmarks that define the city, a guide to eating out in the city and happening events.

MUMBAI DIARY
A weekly magazine show on Mumbai, including landmarks that define the city, a guide to eating out in the city and happening events.

BANGALORE DIARY
It includes landmarks that define the city, a guide to eating out in the city and happening events.

FRESH FROM THE OVEN
A weekly look at the films released during the week.

MOVIE METER
A weekly show that has Vox pops on the first day first show of the latest films to hit the theatres.

BOLLYWOOD UNLIMITED
Provides a weekly look at news and features from Bollywood, gossip, hotshot parties, on the sets and previews.

INDI TOP TEN
A weekly countdown show of the most happening indi pop songs.

IT HAPPENS ONLY IN INDIA
A weekly programme that showcases various oddball events and happenings caught on tape &
For more information on any ANI Service: email: ani@aniin.com or call us at our New Delhi News desk: 91-11-26189705, 91-11-26703000
MULTIMEDIA
Websites and Broadband


ANI uses the latest in Internet technology to provide exclusive video , audio , text and picture content for web users.
Mobile


ANI's has a multilingual package of audio, video , SMS and MMS content for mobiles.